To follow up on the kitchen post from earlier this week, let talk bathrooms! we will have two (well one and 3/4) bathrooms in our new place. As everything will be so open plan and we'd like to keep the flooring as consistent as possible the 'main bath' has been cause for some debate.
we have decided to keep the main stuff (toilet/sink/bath) white as we feel its the most classic choice and won't date.
plus its the easiest colour to accessorize. While W and I have many things in common our decorating styles tend to differ. I love things to be bright and like and slightly modern , he likes a more muted neutral traditional look. Our house at the moment was our first attempt at combining our stuff and style. I love our little house but its got too much brown action in it at the moment and in the new house I want to mix it up a little bit more.
I'd love to try out an interesting paint treatment like the photo above
I

LOVE this shower curtain but know it will be nixed ... a girl can dream ;)
the rest of the bathroom will be neutral enough to mix things up but not so neutral to be boring. We'll be going for a mix of grey/white/brown for the tiling
with this kind of tile for the shower floor/accent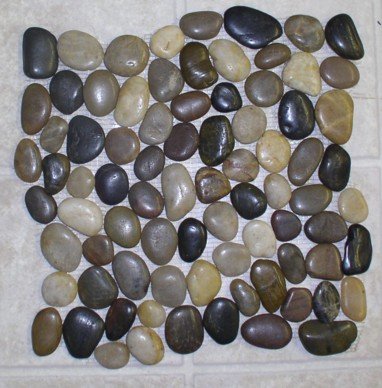 We liked one where the pebbles were a bit flatter/closer together but with the colour variation like above.
we will probably use white tiles within the shower and as a splash back.
the rest of the styling remains to be seen but I'm looking forward to getting creative :)